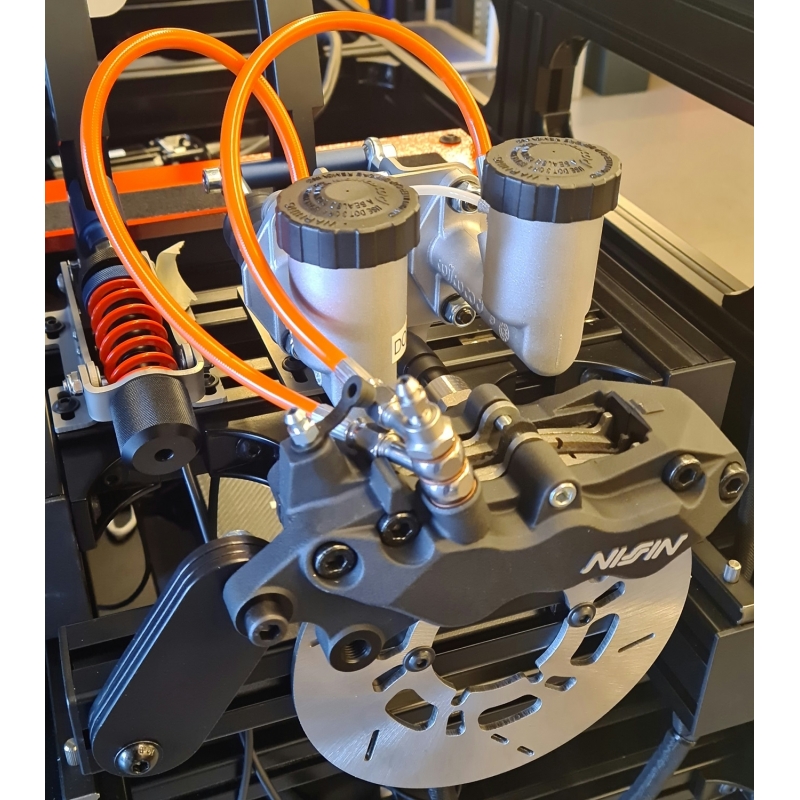  
Hydraulic pedal caliper 6 pistons and brake disc
Hydraulic pedals with 6-piston caliper and brake disc, tested and approved by Sébastien LOEB!
Our project of hydraulic pedals equipped with a 6-piston caliper and brake disc was born from our desire to create a feeling as close as possible to real driving.
 The main evolution of the pedals with caliper concerns the working surface of the hydraulic part, which is larger than the old one.
With 6 pistons the working forces and elasticity are more realistic than with one. The crushing progressiveness and the degressive are a little bit closer to a real racing car.
.
.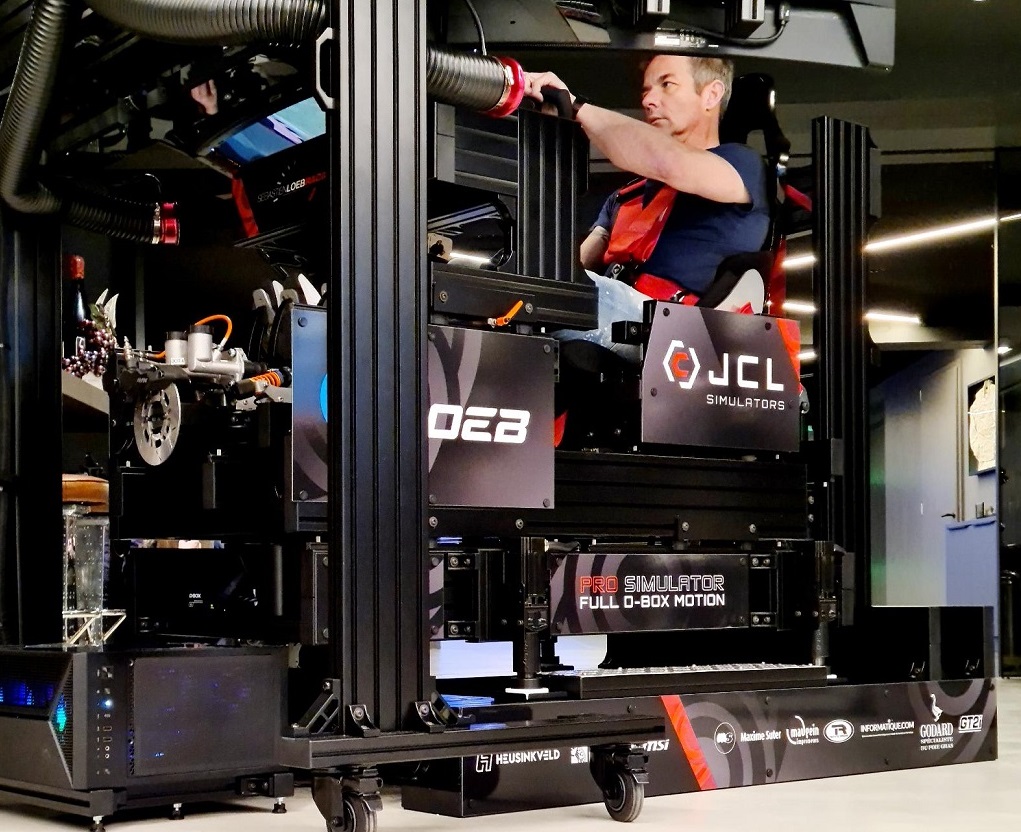 .
.
-Study and development-
Developed in CAD by our young trainee in mechatronics engineering school,
this new pedalboard is the result of three months of study.
We were particularly interested in the ergonomics of the adjustment of the accelerator start/end stops and the
We paid particular attention to the ergonomics of the throttle and clutch travel stops as well as the adjustment of the spring preload.
All these adjustments are made manually without the need for tools or special disassembly.
The hydraulic brake can withstand pedal pressures ranging from 65 to 110 kg. The crushing force is adjustable by means of
by means of elastomers of different hardnesses.
The instrumentation necessary for the acquisition of the hydraulic pressure and displacements has been entrusted to our
electronic designer. After the in-house production of numerous 3D printing models,
the manufacture of a first prototype required 1 month of additional work and no less than 8 months of cumulative testing both in the
8 months of testing, both during our presentations and in one of our clients' sports stables.
We were also lucky enough to benefit from the expertise of the young pilot Jérémy SARHY, thanks to whom
our product is now extremely successful in terms of realism.
.
.
-Quality materials-
The chassis of each pedal is made of folded stainless steel sheet, previously cut by laser.
The bead blasted finish of these parts ensures a uniform and durable appearance.
The pedal levers and stop adjustment mechanisms are CNC machined from aerospace aluminium.
machined from 6061 aerospace aluminium.
Coloured surface anodising adds a professional look to these parts while protecting them from oxidation.
Most of the screws and bolts are also made of stainless steel.
The hydraulic braking transmitters and receivers are supplied by a famous racing brake equipment manufacturer.
The USB acquisition card for the bottom bracket sensors is made by Leo Bodnar.
.
.
-Quality of assembly -
Just like our chassis, the assembly of each pedal is done by us in our premises and benefits from the quality
quality and expertise of JCL Simulators.
.
.
Features:
The new JCL hydraulic pedalboard, anodised finish, stainless steel folded structures.
Brake equipped with 2 transmitters and a Wilwood hydraulic receiver.
Digital pressure sensor 110bars.
Aviation hoses, Dot 5.1 brake fluid.
Supplied with 2 pairs of pads of different hardnesses to adjust crushing pressure during braking.
Mechanical throttle and clutch with adjustable stroke/angle of attack and compression via 3 knobs.
Hall effect angular position acquisition. Leo Bodnar USB interface card.
Lockable miniature industrial connectors.
Calibration via Windows peripheral interface.
Machined aircraft aluminium mechanisms, anodised finish, bent stainless steel pedal bracket, stainless steel screws.
8 other products in the same category:
Customers who bought this product also bought: