Full simulators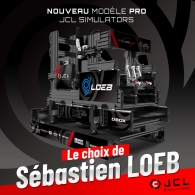 Our know-how

All of our simulators are manufactured by us, many parts are created and developed in-house.
We use all the skills of our team in terms of research and development for our new products, such as our brand new PRO hydraulic crankset!
In perpetual innovation in simulation technology, JCL continues to work on the development of simulator settings and the search for sensations at the limit of reality.
These evolutions concern :
* On the quick height/depth adjustments of the steering wheel
* On the pedal depth to adapt the simulator to the pilot's morphology,
* On the "surge" cylinder system for the feeling of gear shifting and body compression during braking,
* On the " Sway " system for lateral compression.
No products available yet
Stay tuned! More products will be shown here as they are added.