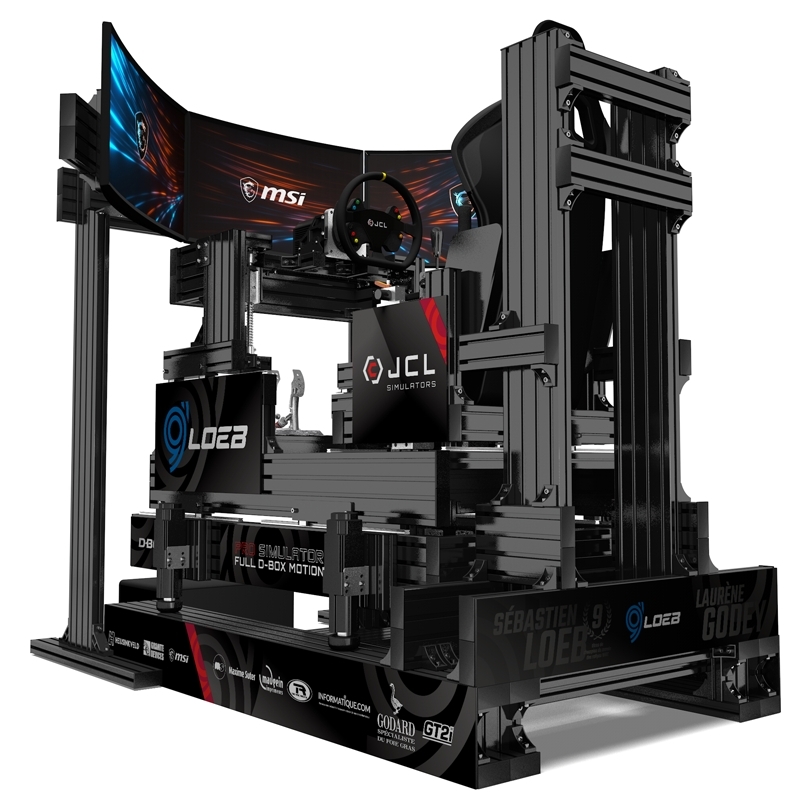  
PRO simulator, triple curved 32" screens
If you want a top-of-the-range simulator ready to use, JCL is also the choice of Sébastien LOEB! 
Design your own simulator by adding the peripherals of your choice
This simulator includes these elements mounted & parameterized:
Pro chassis with quick adjustments, steering wheel height/depth and pedal depth
JCL hydraulic pedal with 6-piston caliper and brake disc
5 D-Box cylinders, 4 for suspension feedback and one for body compression feedback during braking. ( 6th cylinder in option for the feeling of the lateral compressions )
Simucube Pro flywheel motor
Bucket seat mounting brackets
Triple 32" curved screen and stand
PC Gaming 3080 ti
Assetto Corsa game
It is up to you to choose the peripherals of your choice so that the simulator is functional and meets your needs:
Steering wheel
Bucket seat
Audio system with speakers and/or headphones
Do not hesitate to contact us to advise you on the choice of your options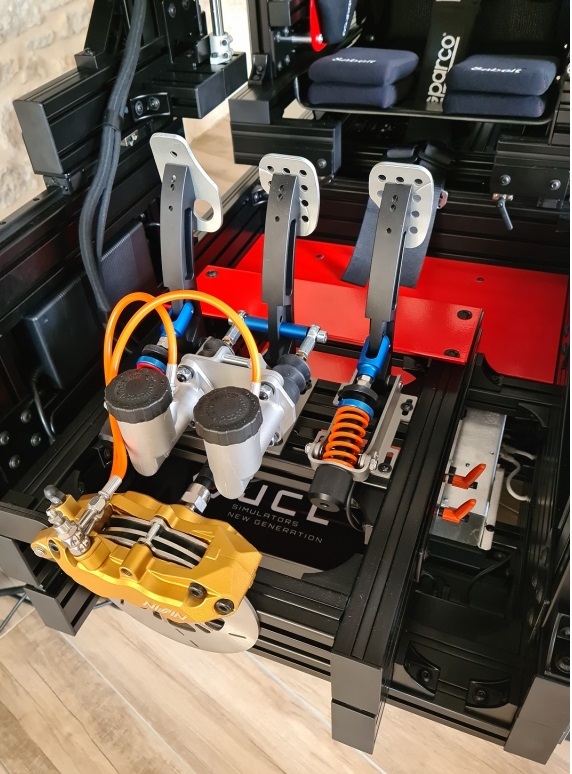 JCL hydraulic pedals:
The new JCL hydraulic crankset, anodized finish, stainless steel folded structures.
Brake with 2 transmitters and a Wilwood hydraulic receiver.
Digital pressure sensor 110bars.
Aviation hoses, Dot 5.1 brake fluid. Comes with a compression elastomer kit for adjusting the crush hardness when braking.
Mechanical throttle and clutch with adjustable stroke/angle of attack and compression via 3 knobs.
Hall effect angular position acquisition. Leo Bodnar USB interface card.
Lockable miniature industrial connectors.
Calibration via Windows peripheral interface.
Machined aircraft aluminium mechanisms, anodised finish, bent stainless steel pedal bracket, stainless steel screws.
.
.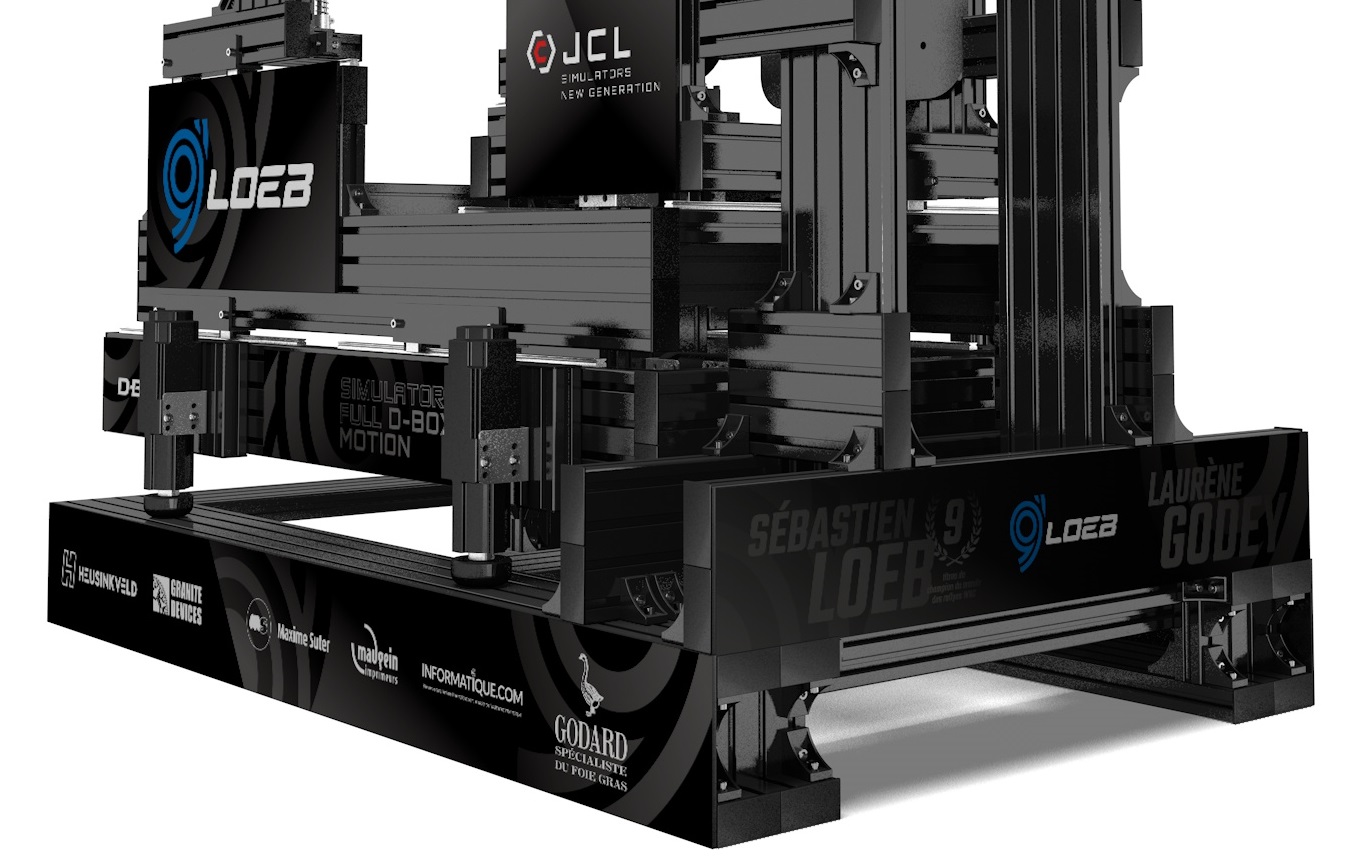 PRO model equipped with 5 D-Box actuators, 4 for suspension feel and one actuator for body compression feel during braking.

Race like the pros with the world's most accurate motion system available today. Now recognized by the FIA
Replicate the feeling of driving the most powerful race cars with full haptic feedback.
Unique motion technology with over 65,000 distinct motion effects.
Meticulous synchronization with a response time of 35 ms.
The only system to offer a motion experience developed and refined in partnership with the industry's leading game developers such as Codemasters and Turn 10 Studios.
.
.
.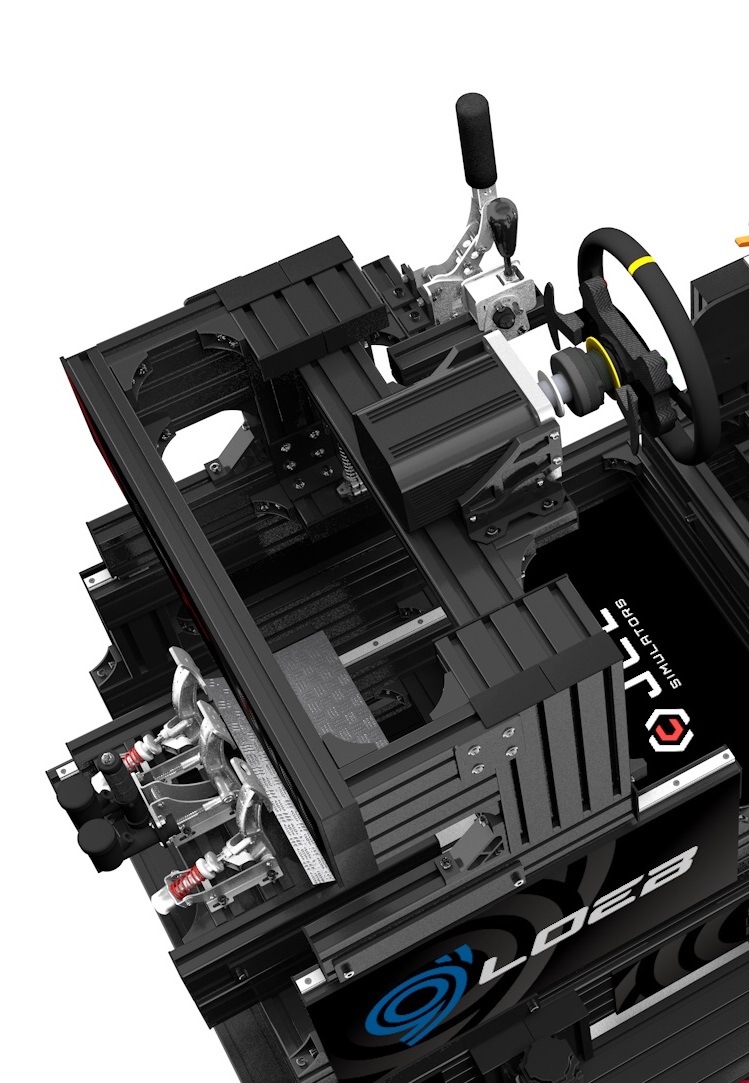 SIMUCUBE PRO
.
Achieving maximum realism is fundamental in racing simulators. Realism comes from reproducing the intense sensations of the circuit and everything around it: the excitement at the start line, the adrenaline rush when overtaking, the heightened senses when reaching the limits of grip.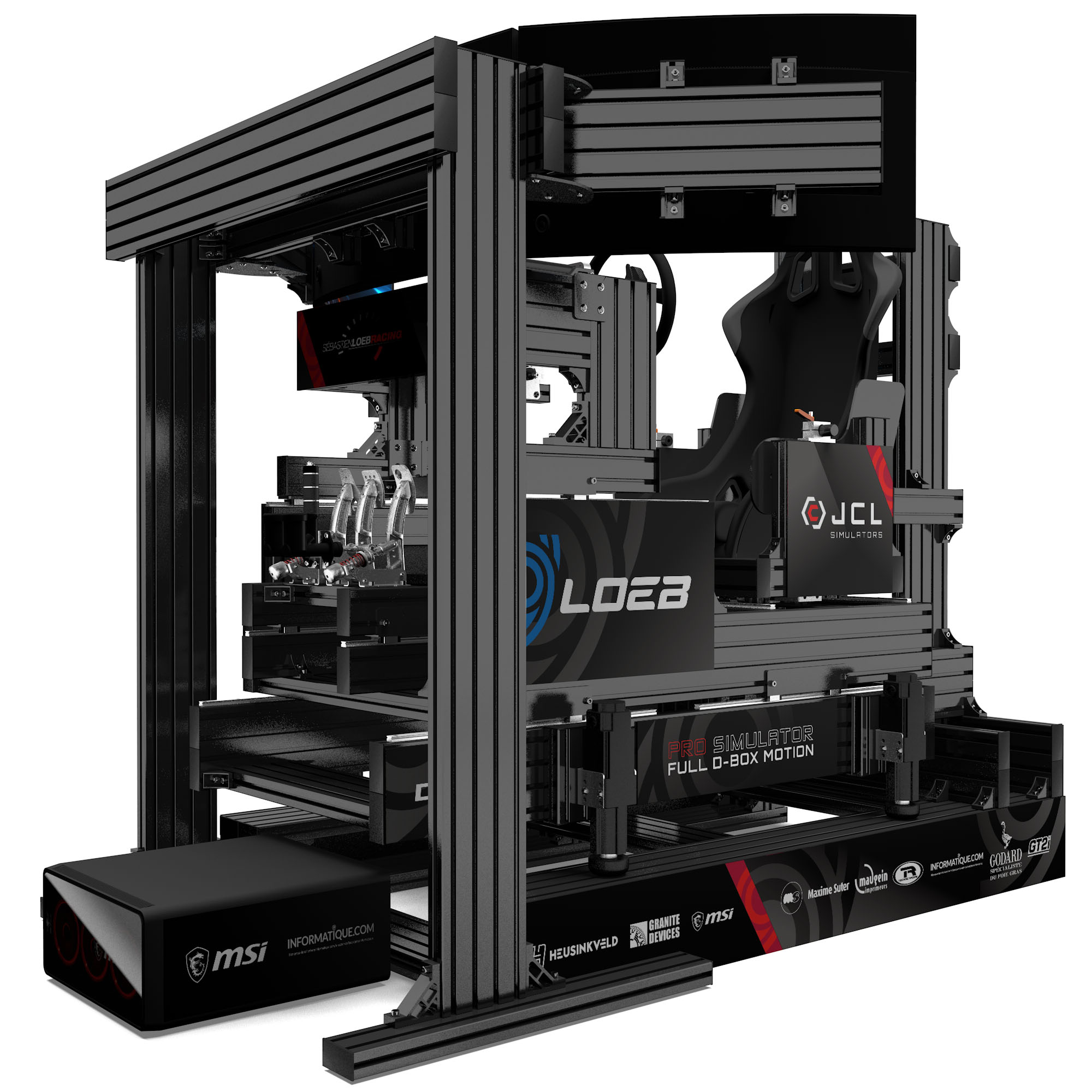 PC Simulator config 3080 ti
LOGITECH K 400 PLUS KEYBOARD
3 YEAR MANUFACTURER'S WARRANTY
3 curved 32" screens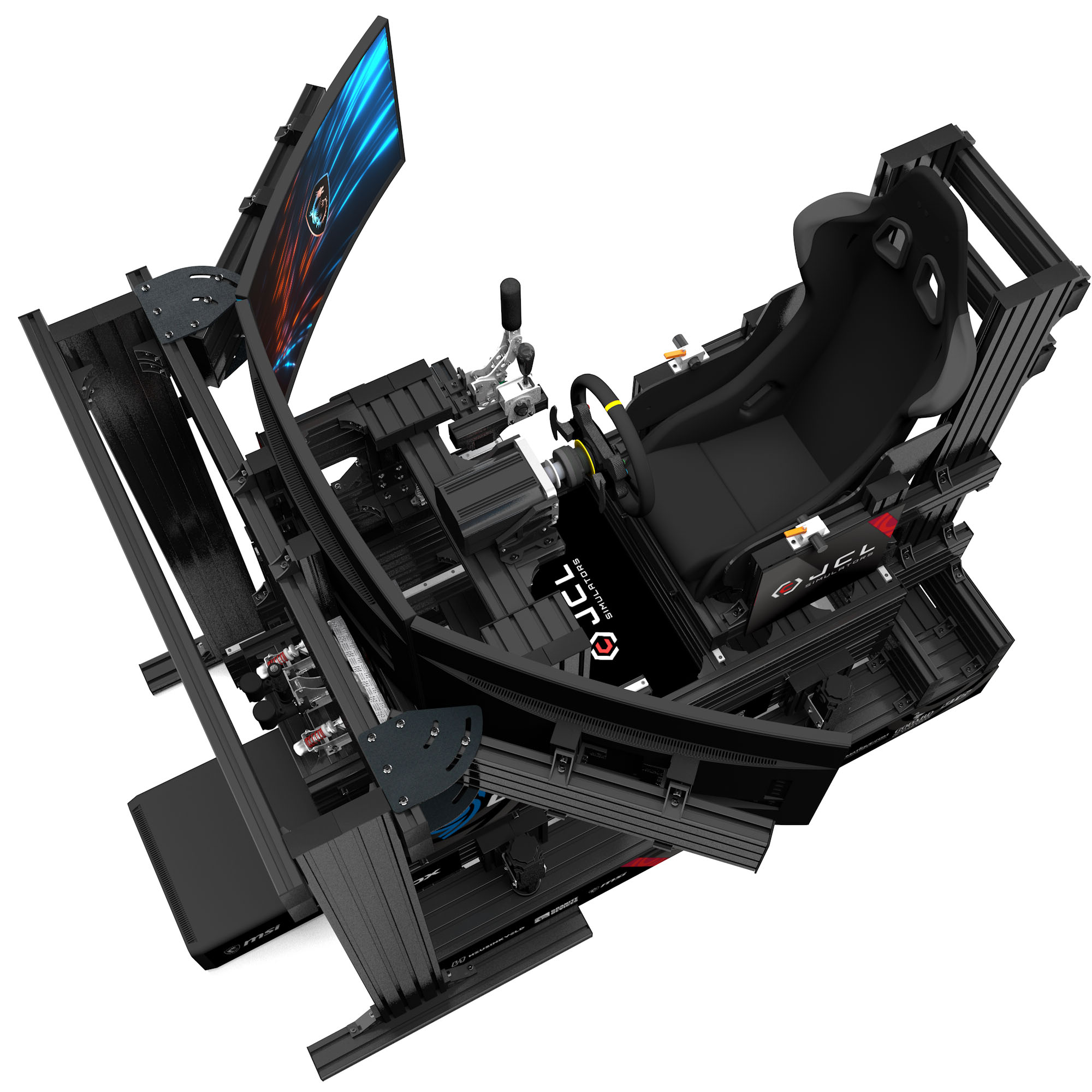 GUARANTEES JCL SIMULATORS
ALUMINUM FRAME 5 YEARS JCL profiles, brackets and mechanical parts
D-BOX 1 YEAR EXCLUDING NORMAL WEAR PARTS
PC Gamers 3 YEARS
SIMUCUBE DEVICE PRO/SPORT WARRANTY 2 YEARS
JCL pedal board 2 YEARS Built at JCL premises
PERIPHERICS VARIOUS BRANDS 2 years
6 other products in the same category: