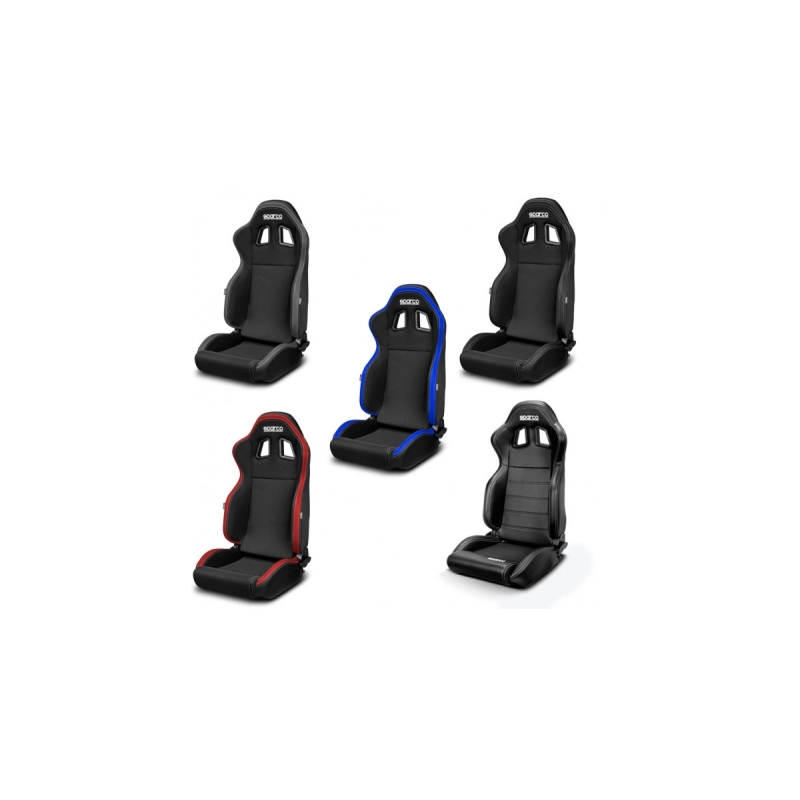  
An evolution of the iconic R100 bucket seat but with improved ergonomics, the Sparco R100 My2022 tubular bucket seat has a design designed for amateur motorsport and trackday riding with good foam padding and unbeatable value. The seat has a double adjustment and an ergonomic reclining lever to find the position that suits you. This ensures a high degree of individual comfort for both rider and passenger, unlike fixed buckets.
Depending on the material used, these buckets can also save a lot of weight on your racing car compared to the original car seats. Sometimes saving more than 5 kilos per seat, it will improve the weight/power ratio of your car.
It is available in a variety of colours to best match your sports car and its look, these are detailed in the technical data. Dark colours such as anthracite will match most vehicles perfectly.
This seat will also offer much better lateral support when cornering compared to an original seat as well as excellent lumbar support.
Combine this with quality reclining footrests and your co-driver/passenger will be comfortably seated to guide you through the stage.
These buckets are reclining but not folding, they have adjustments but no armrests. We have a range of adjustable folding semi-bucket seats with adjustable seat and backrest for optimum comfort and ergonomics.
We also have everything you need to install your bucket seats with fixing kits and in particular: slides, rails, height-adjustable brackets for side fixings, screws.
You can also find our range of office chairs inspired by bucket seats available in various colours and with adjustable seat heights in order to display your passion for motor racing at your workplace or at home.
Technical data :
Lower attachment (271 x 345)
Compatible with 3 or 4 point harnesses.
Not FIA approved
Colours: red/black, grey/black, black/black, blue/black
16 other products in the same category:
Customers who bought this product also bought: