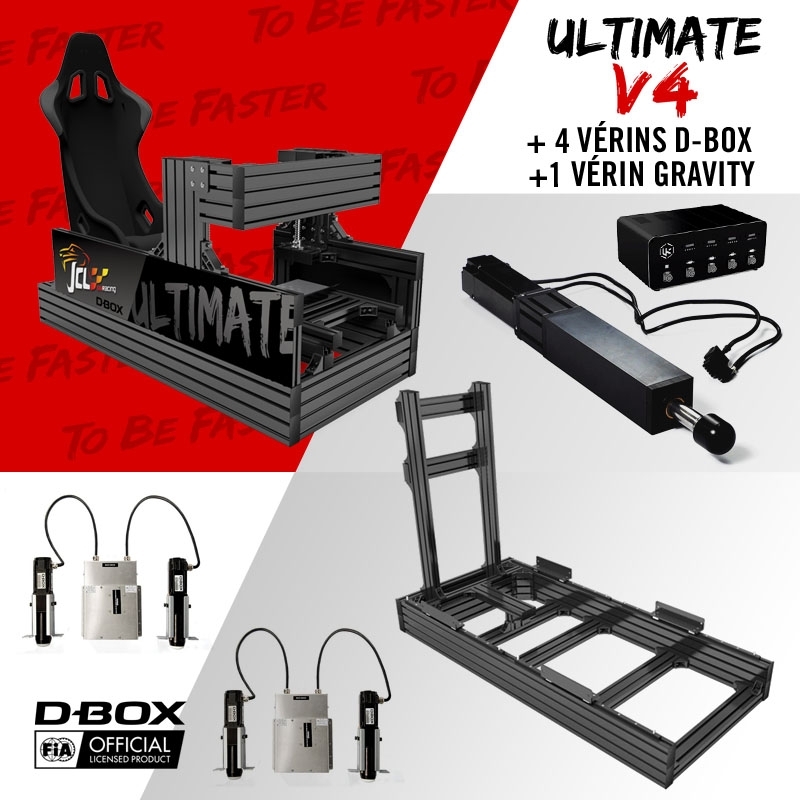  
V4 Ultimate D-Box GEN 5 / Gravity
The New V2 Ultimate chassis offers increased rigidity, customizable trim, enhanced comfort and precise adjustments...
- A structure mainly made of 40*160 mm profiles
- A pedal support on slides allowing the depth adjustment in one gesture
- A steering wheel support with quick height adjustment using 2 tightening handles
- An aluminum heel rest and an embossed plate on the base of the frame
- 5 customizable visuals for a Simulator that reflects your image!
- A mouse pad, meters of slot covers as well as all the necessary screws for the fixing of your peripherals are also included.
--> D-Box Motion model to be as close as possible to reality, including :
4 D-Box actuators GEN5
The profiles and screws necessary to attach the control boxes
The profiles and screws necessary to attach the cylinders laterally
A support designed for the KCU with support bracket and Velcro
Cable management system and cable clamp bases to position and order all the cables of your peripherals
Not included in the kit:
Fixing brackets for bucket seat
Bucket seat

The pre-assembled V4+ frame is equipped with 4 rails of 580mm, 8 ball bearing pads and 4 large machined / powder coated brackets that allow for forward / backward movement.
1 Gravity 100 mm jack with its fixing kit between our V4+ frame and JCL chassis or any other brand of aluminium profile chassis
Before this new innovation from JCL, the only feeling of braking was the pressure on your brake pedal, now you will feel the braking with your body as in real life!

The V4 frame is adaptable to all JCL branded frames but also to all aluminum profile frames. We just need to know the width of your chassis to design it to measure.
Our LK Gravity cylinder is specially designed to be used in mobile cabs.
Made entirely of high-strength steel and aluminum with high quality anodized finishes, it guarantees smooth and trouble-free operation at maximum performance and extreme loads.
With the mechanical capacity to move over 200kg of weight at 250mm/s and combined with our Lince 2.0 motion software, the control over the actuators is total. Including the dynamic control of the weight of the cabin.
Manufactured entirely in Spain by Logykal, all our systems come standard with an emergency stop button and with the necessary anchors for your LK approved motion cabin.
The Gravity system is fully Plug & Play, being able to configure multi-axis systems according to your needs, as it uses a single USB 3.0 cable to communicate up to 4 of them with a PC.
Elements included in the Gravity system
LK gravity actuators (200kgf) 100mm
Gravity Motion Box
Emergency stop button
Anchor to the 40mm structure
Lynx software motion version
Screw set
Customers who bought this product also bought: